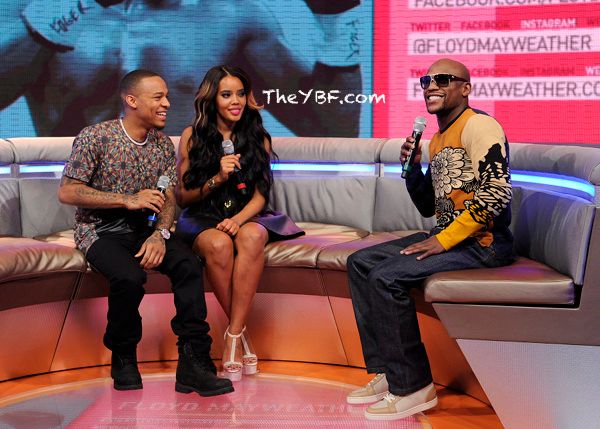 Angela Simmons has joined Bow Wow to co-host "106 & Park for the rest of the week. And the former couple kicked off their co-hosting stint last night.
Check out the ridiculously fab chick and Bow having some fun with Floyd Mayweather inside...
Looks like the viewers didn't get enough of Angela reuniting with her ex Bow Wow the last time she was on the show. because she was asked back to co-host for the rest of the week while Paigion, Shawty Da Prince & Miss Mykie are on vacation.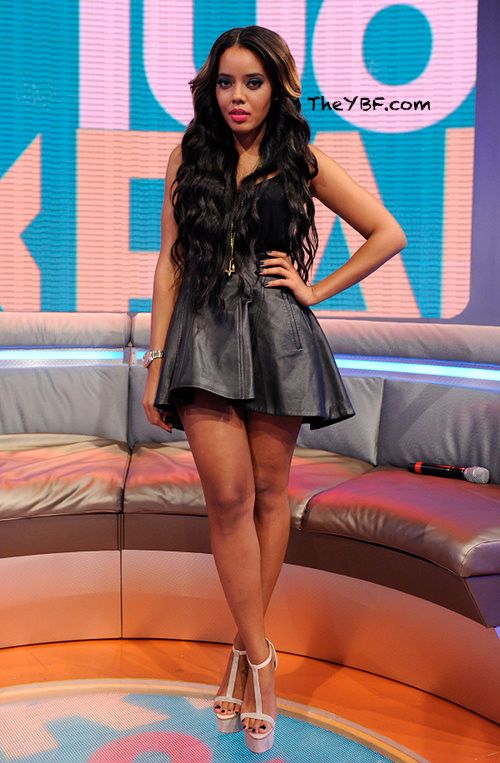 Rocking a sexy black leather flirty mini dress and white T-strap wedges, Angela kept it cute while having some fun with her homie (former) lover friend. And on the gossip tip: We're hearing that if all goes well with ratings during Angela's 3-day test on the show, a permanent change may be made that keeps her on the show as a co-host. No word on how that will affect the other three.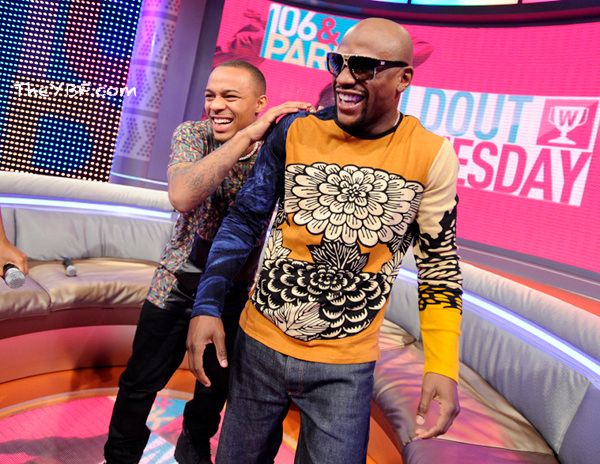 The twosome interviewed the champ, Floyd Mayweather, and had some fun with the audience. Check out their full episode below:
And in other news, Jay-Z and his wife are playing tag team on the tour front. As soon as Beyonce wraps the US leg of her Mrs. Carter Show world tour in September, Jay is kicking off his seven-week world tour on 4 different continents.
From September 9th in Poland to October 28th in Melburne, Jay will be traveling the world performing concerts in conjunction with spreading awareness about the global water crisis. And once again, it will all be documented by MTV for another "Diary of Jay-Z: Water for Life" special premiering Nov. 24th on the network.
"In the beginning, when I was going out on a world tour, I was going out to play music," the Def Jam president said earlier this month. "But I said to myself, I can't go to these places I've been and not go out and see the people that have been touched by my music for over 10 years. From that morphed, 'Well, I'm not just going to go over there and rap to them.' I'm going to help and see what I can do in these areas."
By the way, Jay's also performing at this fall's Fashion Rocks event September 7th at Radio City Music Hall. All the world tour dates are below:
Sept. 9: Krakow, Poland (Coca-Cola SW Live Festival)
Sept. 10: Bratislava, Slovakia (Incheba)
Sept. 15: Amsterdam (Heineken Music Hall)
Sept. 16: Germany (TBA)
Sept. 18: Istanbul (Refresh the Venue)
Sept. 19: Athens (Olympic Arena)
Sept. 21: Manchester, England (Evening News Arena)
Sept. 22: Glasgow (SECC)
Sept. 23: Birmingham, England (National Indoor Arena)
Sept. 24: London (Wembley Arena)
Sept. 26: Dublin (the Point)
Sept. 27: London (Royal Albert Hall)
Sept. 29: Paris (Le Zenith)
Sept. 30: Milan (Fiera di Milano)
Oct. 2: Barcelona (Teatro Heineken)
Oct. 4: Dar es Salaam, Tanzania (Diamond Jubilee)
Oct. 6: Accra, Ghana (Accra Conference Center)
Oct. 7: Lagos, Nigeria (Ocean View)
Oct. 9: Luanda, Angola (Cine Karl Max)
Oct. 11: Cape Town, South Africa (Belleville Velodrome)
Oct. 13: Durban, South Africa (ABSA Stadium Outer Fields)
Oct. 14: Johannesburg (Coca Cola Dome)
Oct. 17: Hong Kong (TBA)
Oct. 18: Bangkok, Thailand (BEC Tero Hall)
Oct. 20: Seoul, Korea (Walker Hill Gayagum Concert Hall)
Oct. 21: Taipei, Taiwan (Taipei Dome)
Oct. 23: Singapore, Singapore (Suntec City Concert Hall)
Oct. 25: Sydney (Entertainment Centre)
Oct. 27: Brisbane, Australia (Entertainment Centre)
Oct. 28: Melbourne (Rod Laver Arena)
The Randomness:
1. Rihanna confirmed her next video will be for "Pour It Up". VIDEO
Photos: Byron Edwards for BET