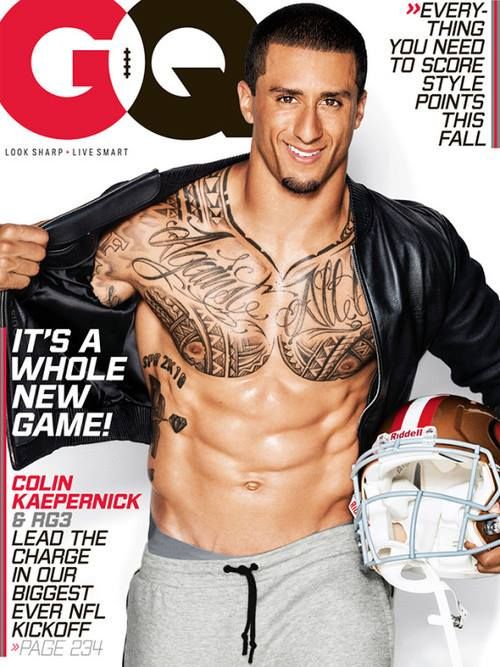 San Francisco 49ers quarterback Colin Kaepernick covers the September edition of GQ, for the mag's NFL Kick Off issue. See the highlights inside....
San Francisco 49ers quarterback Colin Kaepernick covers GQ's September NFL Kickoff issue. Hitting newstands on Aug. 20, CK shows of his tattoos, talks about his adoptive parents and his racial identity. Here are the highlights:
Here are the highlights:
Colin Kaepernick on reliving his bad plays on-field:

"All my life, I've had these flashbacks, these dreams, nightmares, daymares, like visions, where I relive certain plays," he says. It's never the highlight reel stuff. Just the junk. "Only the bad plays. I see them over and over, as if somebody's rewinding a tape and forcing me to watch. Some of these are recent." The three goal-line incompletions that preserved Baltimore's slim lead as time dwindled in the Super Bowl play frequently and vividly. "But some of them go back to high school. Every time I relive these mistakes of mine, I'm also forced to ask, What could I have done different? What decisions could I have made? This stuff haunts me, but I like it, because it makes the game hard. And the more I study, the more comfortable I feel with what a defense is going to do."

Colin on the camaraderie of football, and preferring it over baseball:

"You know what I love most about this game? You know what I miss the most when I'm away from it? Being around my teammates. That's it! Growing up, when I dreamed about playing in the NFL, it was never about being famous, never about the roar of the crowd. It was about the other players, because there is no other sport where you rely on your teammates so much. The fact that you can go out there and trust ten other people without even looking at them, that's amazing. That you can build that type of trust and have that type of confidence where you can throw a ball without seeing where a receiver's at, and just trust he's gonna be there and make a play… Do you know what that feels like, to know those guys have my back and not worry about that? I couldn't feel any of that as a pitcher. On the mound it was just me and the batter. And the questions were all about me: What can I do to throw him off? What can I do to beat him? But there was not that trust, that feeling of others relying on you. That feeling of 'It's just you'–I didn't like that.
Cardigan by Levi's Made & Crafted / T-shirt by Nike / Shorts by Nike Pro Combat / Watch by Rolex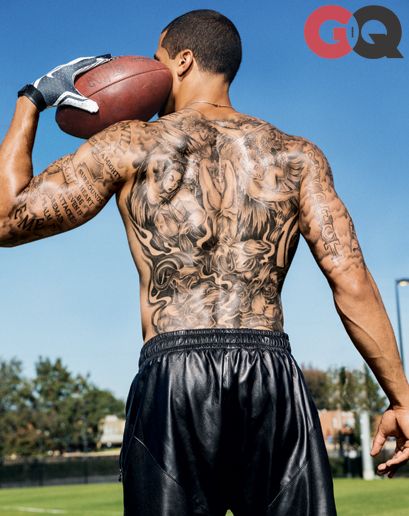 Pants by En noir / Shorts (beneath) by Nike Pro Combat. Sneakers / and gloves by Nike.
Watch BTS video here:
Check out the full story and more BTS pics at the source.
Photos via Ben Watts