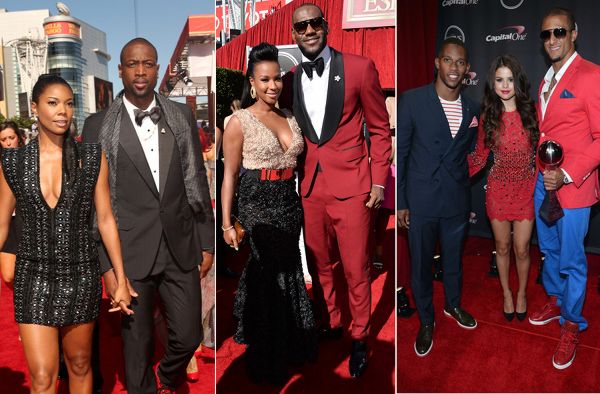 Wednesday night, the 2013 ESPY Awards went down at Nokia Theater Live in L.A. And all your fave athletes, their significant others, and more hit the red carpet for one of the biggest nights in professional sports. Pics inside...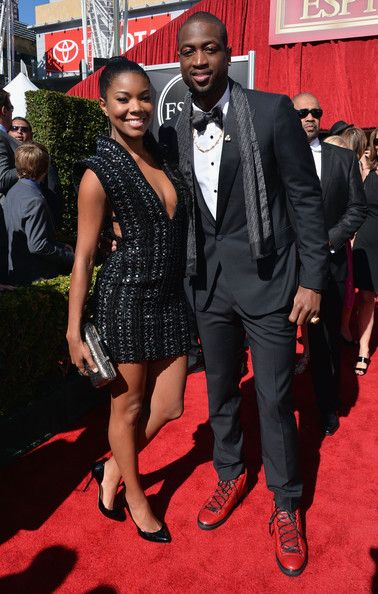 Gabby Union & Dwyane Wade looked like the belle & king of the ball when they hit the carpet. Gabby in a super sexy and backless deep plunging dress and Dwyane in a suit and tie.
Let's take a moment to soak in Gabby's ridiculously hot look...and equally tones bod: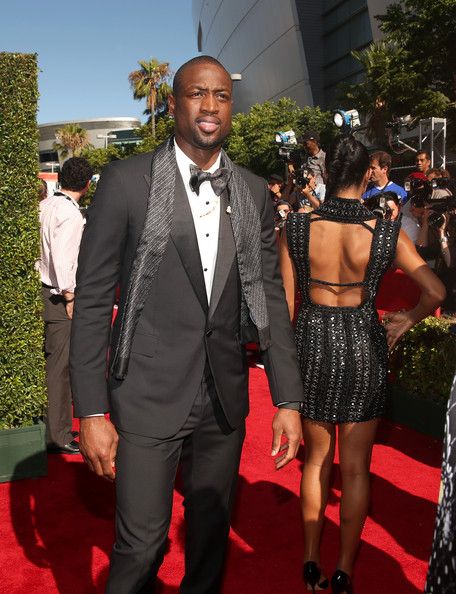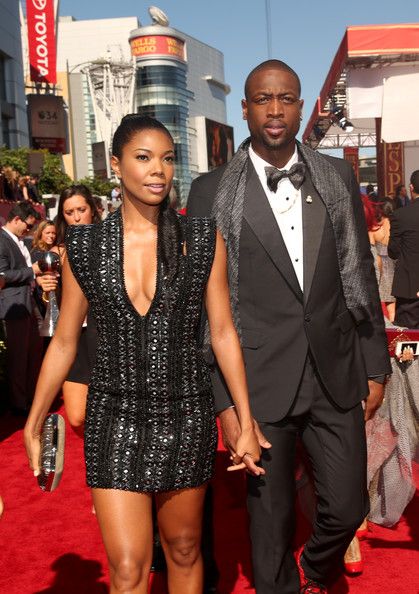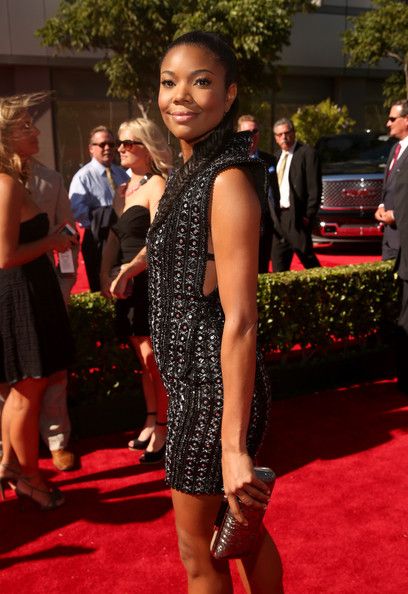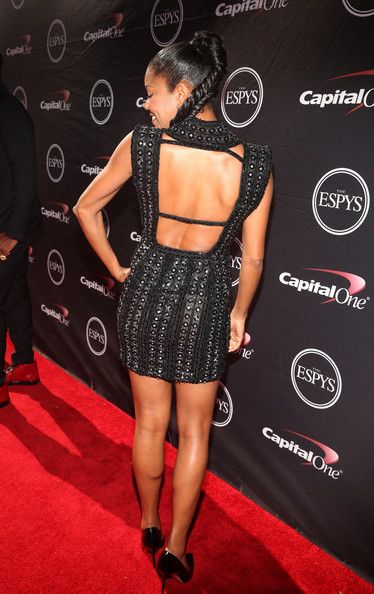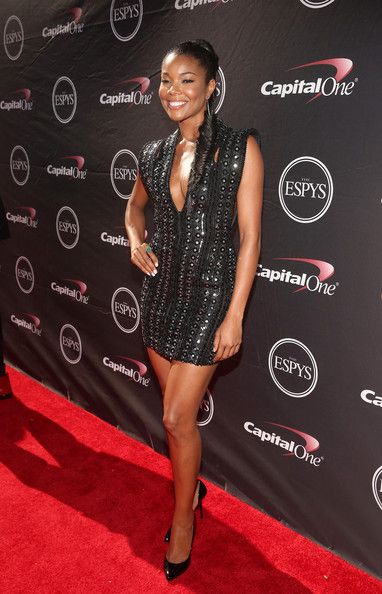 Smoking hot.
Het good friend Savannah Brinson hit the carpet with fiance King James: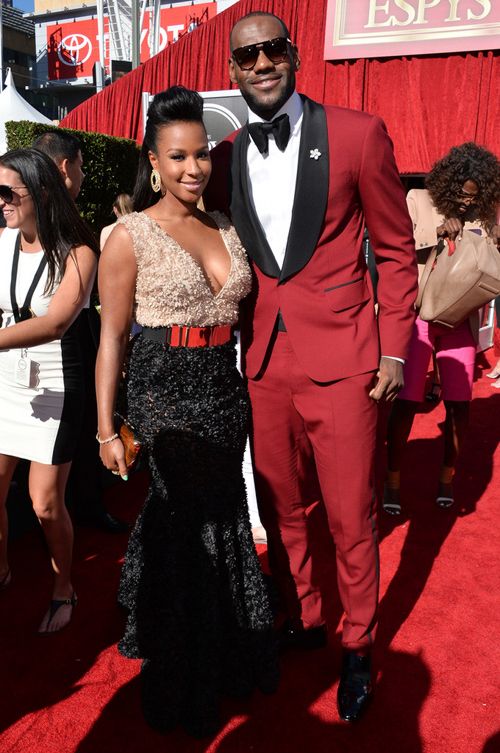 Stunning.
Bron Bron was looking suave in his red satin dinner jacket.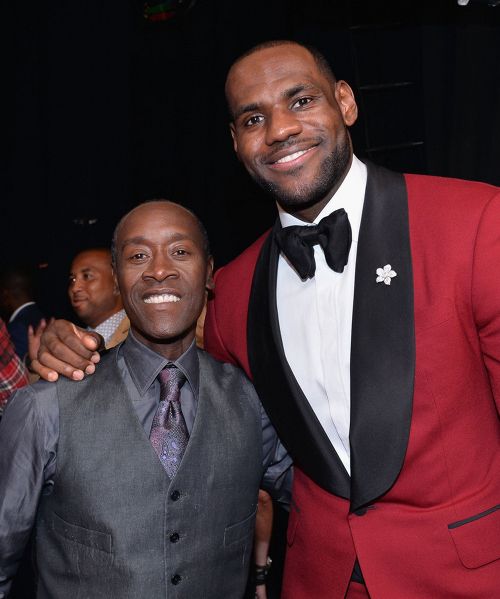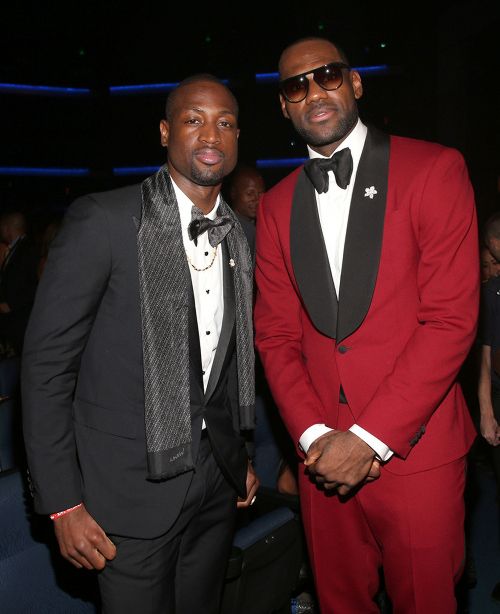 And inside, he snapped some pics with "House of Lies" star Don Cheadle, his teammate & homie D-Wade an Diddy.
LoLo Jones put the bar fight incident behind her and brightened up a bit in yellow.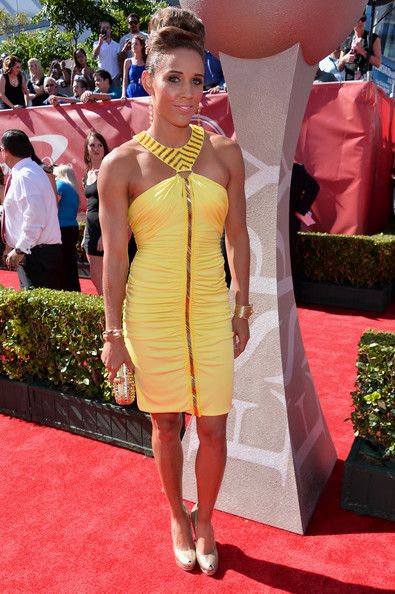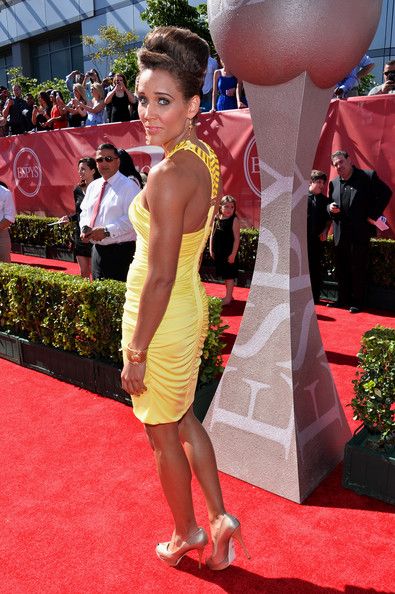 This chick loves getting carried away with the bronzer sticks.
Garcelle Beauvais kept it cool in a metallic deep pink geometric printed strapless dress. Gorge look on her.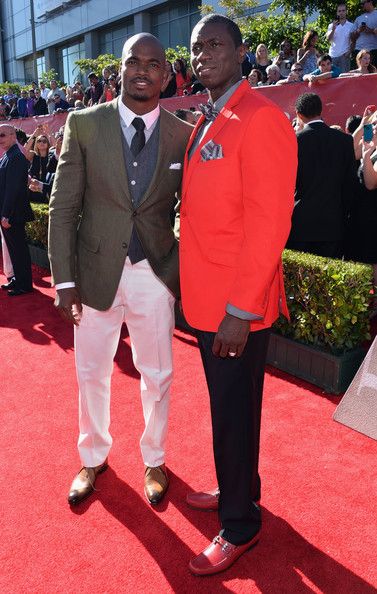 NFLer Adrian Peterson hit the carpet.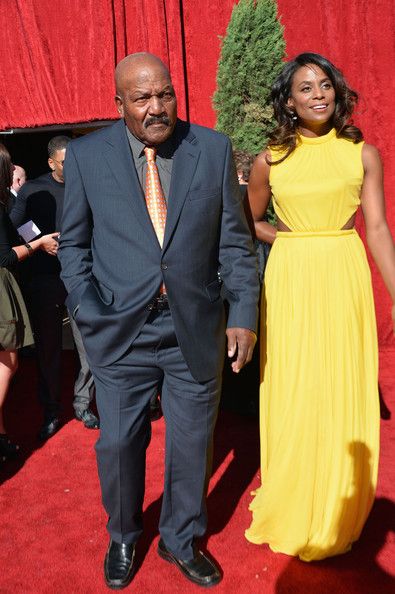 NFL legend Jim Brown arrived with his sunshine-bearing wife Monique.
The sexy Dennis Haysbert didn't miss out on the ESPYS.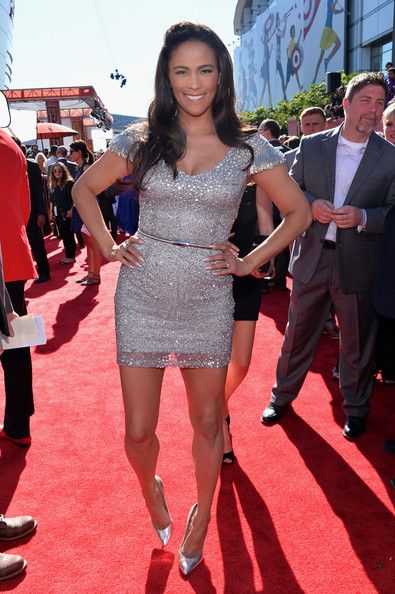 Paula Patton and her drunken picture stance were back at it again.
This softer hair look works for her though.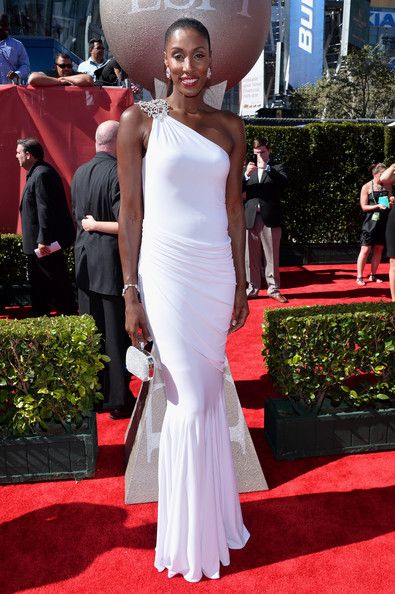 Former WNBA baller and model Lisa Leslie looking gorgeous as usual in a white one shoulder gown.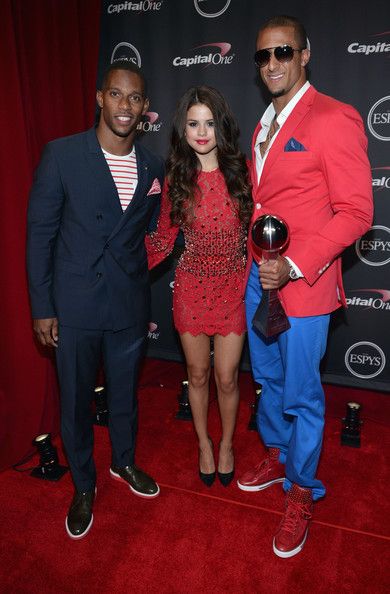 Colin Kaepernick, who's also rocking one of the ESPN Magazine Body Issue covers for 2013, did his best colorblocking with a coral blazer, white button down tuxedo shirt, bright blue pants and red sneakers. The 49ers QB also received this year's Breakthough Athlete Award, so he posed it up backstage with Victor Cruz of the NY Giants and singer/actress Selena Gomez.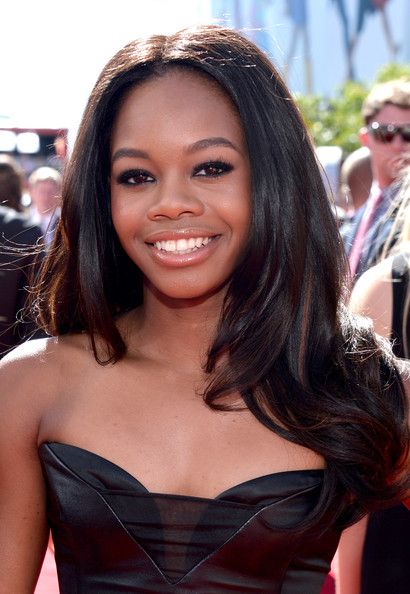 Olympic Gold Medalist Gabby Douglas stays in the much deserved spotlight as she rocked a black bustier dress with a slit int he skirt. One of the best looks we've seen the 17-year-old in. Oh, and that hair and makeup is poppin'.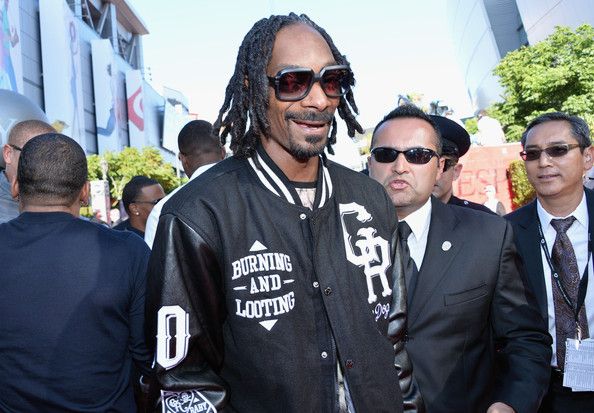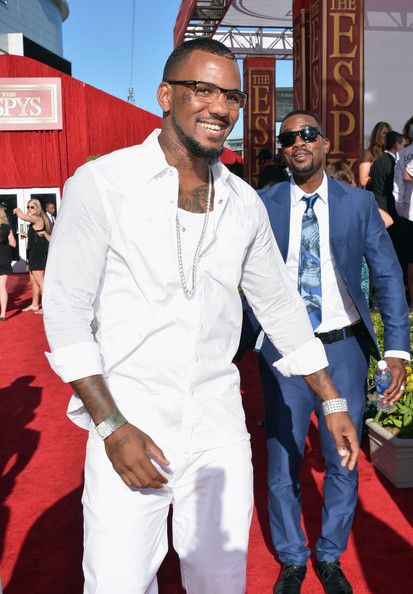 Rappers Snoop and The Game hit up the carpet too.
Celeb fitness expert Jeanette Jenkins was in the right place to pick up new clients..
The Heat champions LeBron James, D-Wade and Ray Allen, with Miami Heat head coach Erik Spoelstra won the Best Game award. Miami Heat assistant coach David Fizdale, NFL player Russell Wilson and Model Chrissy Teigen were on hand to snap a pic backstage.
ESPN Mag Body Issue cover guy, NFL star Kenneth Fareid, made sure to remind folks of where they first saw him--butt naked and flying through the air with a basketball.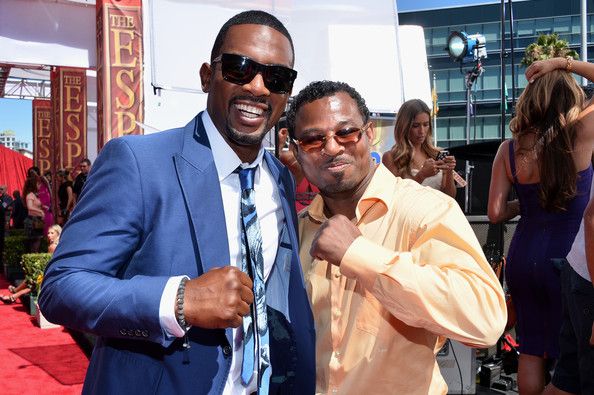 Bill Bellamy and boxer Curtis Conway hit the carpet together, while Curtis' wife Laila Ali rocked a purple gown and a golden Farbod Barsum clutch on the carpet: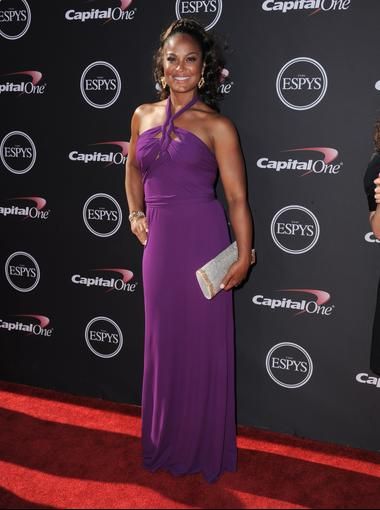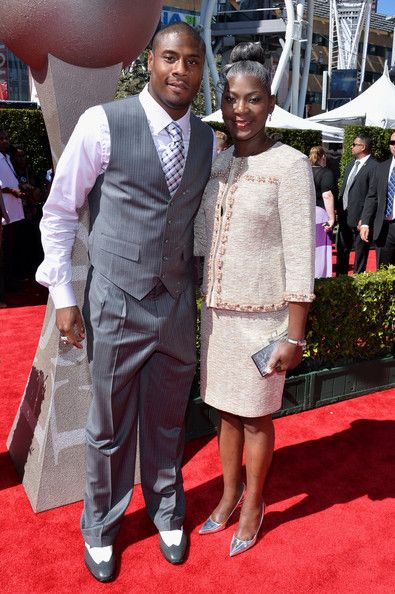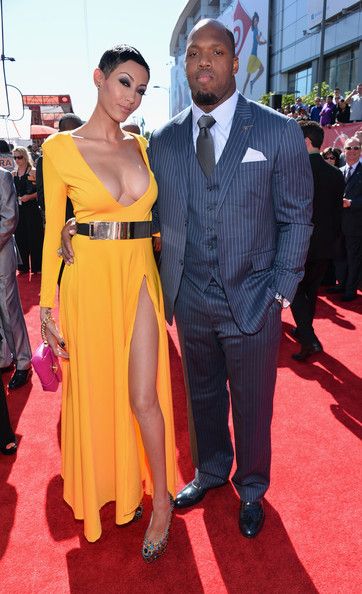 Ballers Jacoby Jones & Terrell Suggs brought their dates on the carpet. Jacoby brought his' fab mom along!
Robin Roberts was on hand to receive the prestigious Arther Ashe Courage Award.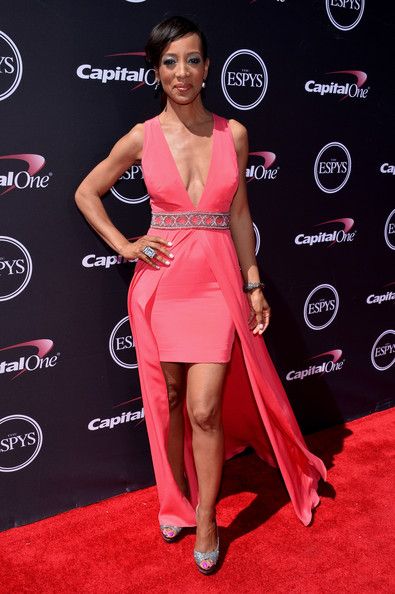 And finally, "Access Hollywood" correspondent Shaun Robinson kept cool on the steaming red carpet before the show. Nice look!
Photos: Getty